---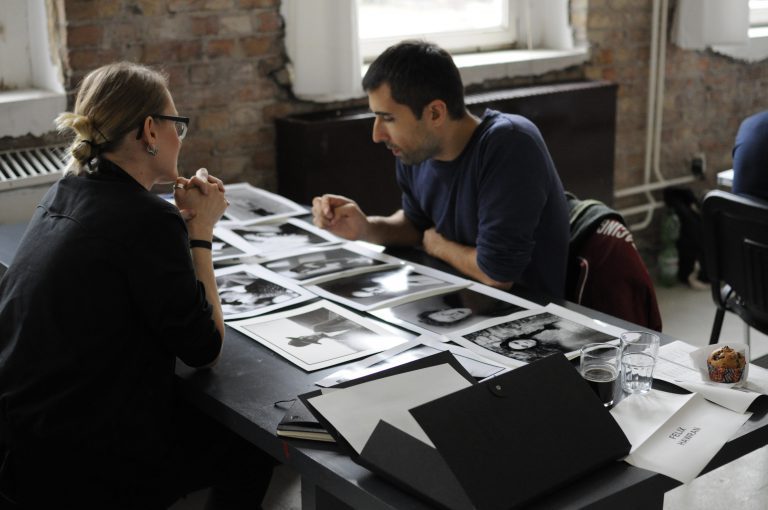 The analogueNOW! Portfolio Review gives photographers the opportunity to discuss a selection of their own work or a project with experts in the field of photography. You decide if you want to bring analog, digital or mixed media work. The offer is directed to everybody who need inspiration, are seeking an exchange and a networking opportunity or just want to discuss their work in private.
OUR REVIEWERS:
Carmen Brunner:
Carmen Brunner has an educational background in photography, english language and literature and media studies. She was a publication manager and photo editor for artist Wolfgang Tillmans, where she assisted with picture editing, design and production of photo books and magazine contributions. From 2011 she was the chief photo editor for the german magazine Dummy and not much later took over the same position at Fluter, the magazine of the German Federal Agency for Civic Education. After leaving Dummy and Fluter in 2018 she currently works as a visual and conceptual consultant and photo editor for several agencies, projects and editorial offices.
Betty Fink:
Betty Fink works as a free photo project manager, teaches photography and photo editing and does photography coaching. She has an extensive experience of 20 years working in various fields of photography. In those years she experienced working with magazines, exhibitions and many instituions and foundations. Fink is also a former manager of Photo Agency Ostkreuz, where she has worked for several years. Her work in the Agency included work with many important photographers from fields of photojournalism, documentary and art photography.
Nuša Hernavs:
NušaHernavs finshed her education for photo editor at the Ostkreuz Schule für Fotografie in the class of 2018/19. Her background comes from humanities, where she graduated with her Master Thesis: "Visual Female Artist and Aspect of Stereotypes and Significant Characteristics of  Women in Art". She is a former active member of the curatorial team at analogueNOW!. Her interest lies in contemporary photography, zines and  photobooks.
Caro Bräuer:
Caro Bräuer is one of the founders of the analogueNOW! festival for analog photography in Berlin. In recent years she has worked in various photographic projects. She has a.o. a photography and photo editing background. One of her current favorite topics is the photobook and social issues combined with photography.

How can I participate?
The number of participants is limited so reserve your spot fast!
Just send an e-mail to: review@analoguenow.com
Registartion deadline: Wednesday, May 15th 2019
After a successful booking and received payment we will send you a confirmation with tips for preparing for the portfolio review.
Participation fee:
2×20 min: 35€ / 30€ discounted*
3x20min: 45€/ 40€ discounted*
*students, seniors and unemployed
The analogueNOW! Portfolio Review will take place on Sunday afternoon, May 19th 2019. You will receive an e-mail with the exact time for your private review after the application deadline.