Analogue Fair – Our well-known fair will be expanded this year to an 'Analogue Fair'. On Saturday and Sunday the fair will feature manufacturers of darkroom and photography equipment as well as camera dealers, print sales and photography collectives. In addition to analogue photography, other analogue media and printing techniques will also be featured.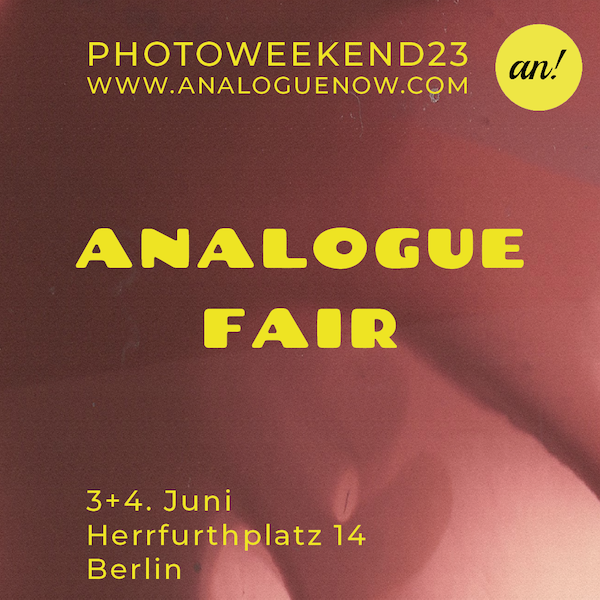 ORWO Anton Kunze, Hamburg
Bilderfürst, Fürth
Foto Meyer, Berlin
Fotopioniere, Berlin
Jobo, Gummersbach
Filmomat, Munich
Plustek Technologies, Ahrensburg
Forum für Analoge Fotografie, Berlin
Stattlab, Berlin
Foto Kotti, Berlin
FotoMax, Berlin
FULL PROGRAM:
Thursday 01.06.
15-18h – B&W advanced film development workshop by Jochen Rohner
Friday 02.06.
10-16h – Pinhole camera: build it and take photos workshop by Markus Kaesler
10-14h – Enlarging B&W negatives for beginners workshop by Jochen Rohner
12-17h – Portfolio Review
13-17h – Two colored Cyanotype workshop by Sehera Nawaz
15-19h – Advanced enlarging of your own B&W negatives workshop by Jochen Rohner
16-19h – BERLIN FILM PHOTO WALK — hosted by CineStill & Safelight
19h – Opening at the Genezarethkirche with live music – DON'T MISS IT!
Saturday 03.06.
10-18h – Analogue Fair
10-17h – Filming and tricking with the Bolex on 16mm film workshop by Jan Nordsieck
10-17h – The hole world – Awfullogrammes workshops (1 | 2 | 3) by Justin Quinnell
11-13h – Show&Tell
11-15h – Bromoil process demonstration by Roland Behrmann
12-14h & 15-17h – Analogue vintage portraits by Sabine Alex
13-14h – Slow Händwörk in de Atteljäh änd in de Dunkälkammer lecture by Antje Kröger
14-15h – Presentation of International Festivals
15-16h – Full Body Cyanotype Performance by Stattlab at Tempelhofer Feld
15-17h – Creative painting on negatives & scanning process workshop by Rüdiger Schestag
17-18h – Artist talk Revelation exhibition
18-20h – Show&Tell
18h – Mjuboys zine #8 release at Brauhaus Neulich
20-22h – Artist talk, Polaroid exhibition at Reflektor
Sunday 04.06.
10-18h – Analogue Fair
10-16h – Pinhole camera build and take photos workshop by Markus Kaesler
10-15h – workshop.experimental by Sabine Alex
10-16h – Tintype portraits by Maximilian Zeitler
11-12h – Aristotle's Hole – talk pinhole imaging and camera obscura creation by Justin Quinnell
14-15h – Collecting photographs – the analogue image memory lecture by Roland Behrmann
11-17h – human, material, moment / 13×18 negative development on paper workshop by Antje Kröger