---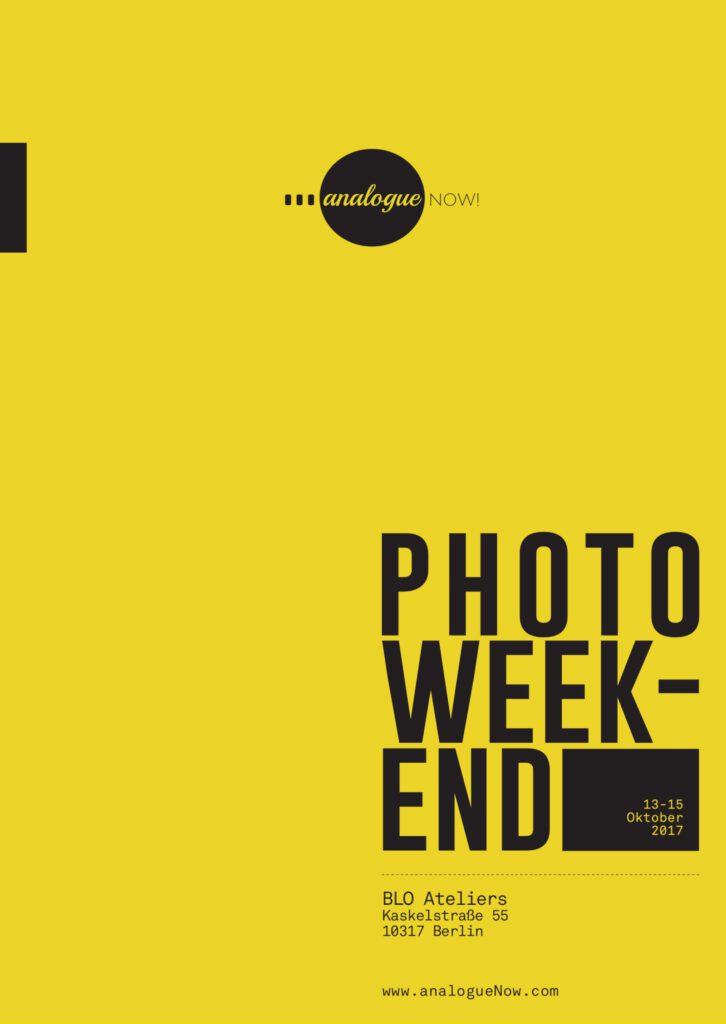 After two successful analogueNOW! festivals, 2017 saw our first PhotoWeekend. From October 13th to 15th 2017 analogueNOW! presented the new format on the grounds of the BLO-Ateliers. As with previous events, the Photo Weekend was all about the analogue photography community.
From Friday until Sunday, visitors could attend and participate at Show & Tell rounds, workshops, portfolio reviews, our network brunch and concerts, while meeting lots of like-minded people. Photographers and photography enthusiasts were able to discover new things, get to know the current analogue photographic trends and network with each other.
Our program included:
Sharing is the motto: PicSharing
At the Photo Weekend opening ceremony, the PicSharing Festival from Barcelona was our guest and delighted us with their analogue photo Secret Santa: Dozens of participants gave their own photo away to go home with a new work of art.
Spread the knowledge: Workshops
At the heart of the Photo Weekend are the workshops. As usual with analogueNOW! there was a wide selection of basic and expert workshops. From photo walks showing you how to use your camera to photo development with Caffenol – the workshops showed beginners and professionals the possibilities of analogue photography.
Talking shop: Show & Tell
The show & tell is about the story behind the picture. A total of 24 artists, who were selected by open call, introduced their analogue works and projects to our audience – lively exchange included.
Specialist talk: Portfolio Review
Whether analogue or digital, everything was welcome: in the Portfolio Review, one of our four photo experts examined the work of more than 20 photographers and artists, providing constructive feedback to move forward.
Work in Progress: Demonstrations of analogue projects
Creative minds of analogue photography showed on stage what they are currently working on. We were particularly pleased to have the
Schlomographen with their own instant image process, the Schlomoroids.
Jasper Eikmeier showed his open source Afghan Camera, a new project by Boxolab. After that it was time for the Lumenbox. This special pinhole camera only needs photographic paper and water to create an analogue image. And meanwhile, Paperlabapp provided our very own festival family album in the yard.
Money, money, money: Analogue Crowdfunding
With our analogue crowdfunding the visitors of the Weekend had the opportunity to support volunteer work of Click e.V., the association behind analogueNOW! and thus help turn further events and projects into reality. Thank you!

Community Building: Our Network brunch
At analogueNOW!'s network brunch, both big and small company representatives, artisans of analogue projects and photography lovers came together and exchanged views about their passion.