---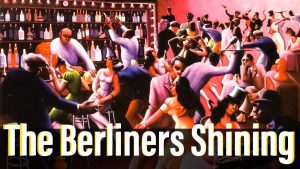 Fr May 17th | Vernissage and Concert
The Berliners Shining is a new fresh band composed by italian and japanese musicians based in Berlin. The sound of the band it will bring you back in time, in the 20s and 30s, playing all the main songs from the swing era written by the famous composers as Duke Ellington, Count Basie, Fats Waller, Glenn Miller ecc. Going through original arrangements we propose a concert suitable to dance or just to listen, in the shine coming from this music full of passion and energy.

Band's members: Irene De Matteis – Voice, Davide Provenzano – Trumpet, Daigo Nakai – Double bass, Chikara Aoshima – Drums, Marco Papa – Guitar/Arrangements
---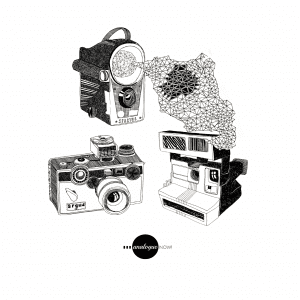 Su May 19th 1pm | Live screen printing
We are super excited to have unique t-shirts and bags printed by Anna Zejmo. And on Sunday you can bring your own cotton t-shirts or bags and see how she prints the amazing camera designs on them!
Look her up she is amazing!



---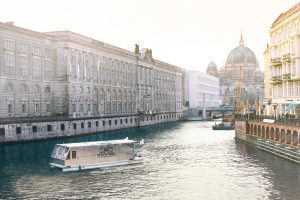 Sa May 18th and Su May 19th 11am & 12 am|Camera Obscura Boat Tour
Join a boat trip on Spree river inside the Moving Camera, meet the captain, Berlin photographer Maciej Markowicz and discover Berlin thru the lens of giant floating camera.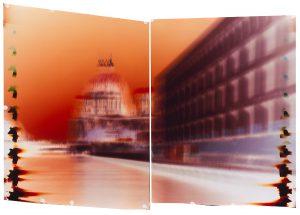 The Moving Camera Foundation (a non-profit foundation) is a floating photographic platform- essentially a giant walk-in camera obscura boat.
Our mission is to promote the use of art and photography for positive social change. We deliver innovative participatory art and photography workshops to children mostly from underrepresented or at risk local communities, provoking imagination and creating foundation for self-development and visual communication, by working in partnership with organizations, communities, and individuals in Berlin and Europe.

Price: 30 €
Participants: 12
Registration: obscuraboat@analoguenow.com
---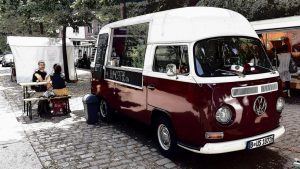 The Berlin Bulli Coffee will treat us with amazing warm and cold coffee creations all day on Saturday and Sunday.




---