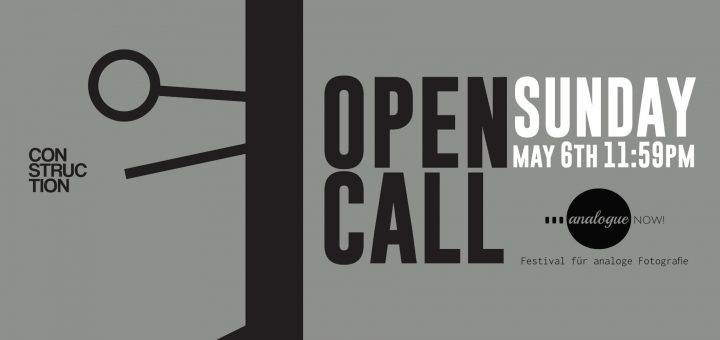 OPEN CALL: analogueNOW! Festival 2018


Welcome to the analogueNOW! Festival open call!
The theme of this year's festival is Identity under the festival title construction. We are searching for exciting photographic work on this topic, which offers many possibilities of interpretation and look forward to many submissions.
Get an impression of our former festivals here and also get some further information about analogueNOW 2015 and analogueNOW 2016.
Would you like to be a part of the analogueNOW! exhibition in the festival 2018? Then send us your photo series of work until SUNDAY, May 6th, 2018, 11:59pm. You can send us your analogue photo work, which have to be presented as a single series on the above mentioned theme.
For submitting some work for the exhibition each photographer has to pay a onetime fee of € 10,-.
---
How can I submit my work?
° Please send us your application with a maximum of 10 photos on the topic in digital form by Sunday, May 6th, 2018.
° All submission are to be send via WeTransfer on the email address opencall(at)analoguenow.com with Subject: »Exhibition«.
° All images must be minimum size/resolution of 20 x 30 cm /300 dpi.
° The photos submitted must be named as follows: first name-last name-number (ex.: Max-Templatename-01, Max-Templatename-02).
° Your submission must include: your full name, date of birth, place of residence, email address, telephone number, short CV, title and the year of the work, short project description, intended size of image to be print and author statement.
° In order to submit your series of work to our photo exhibition a one-time entry fee in the amount of € 10 must be paid.
---
What happens next?
Soon after the submission deadline, you will be notified by us if your work has been selected and we will send you further information on how to proceed. Please note: The production costs for the exhibited pictures and any transport costs to Berlin as well as the return transport after the exhibition are to be carried and organized by each participant.
The exhibition takes place from September 7-16th, 2018, in the Reinbeckhallen Berlin.
We look forward to your submissions!
---
Bank Account Details
Recipient: Click e.V.
IBAN: DE80830654080004921356
BIC: GENODF1SLR