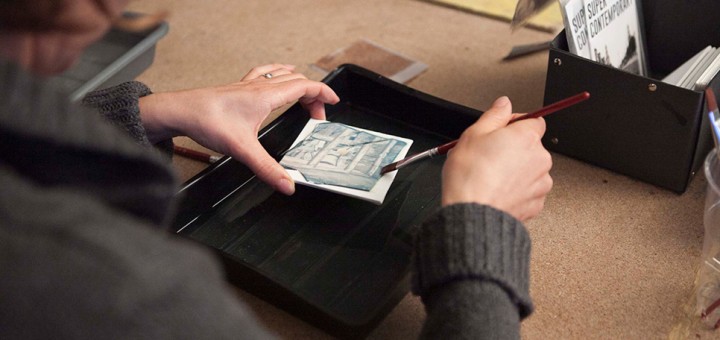 analogueNOW! festival offers a variety of workshops on the subject of film photography. After a successful festival and great response to our workshop program in 2015, we have expanded our workshop program again this year, offering numerous expert workshops, workshops of basic knowledge about analogue photography and darkroom, and workshops for schools, children and people with limited cognitive ability. The workshops are suitable for beginners without any prior knowledge, as well as for advanced photographers and professionals.
Registration Workshops: e.freaza(at)analoguenow.com
The number of participants is limited for all workshops.

All workshops have a minimum age of 16 (except kids and school workshops and the workshop 'Exclusive Inclusive').

Discount applies to schoolchildren, students, those engaged in national military or community service, unemployed persons and severely disabled persons on presentation of the appropriate identification. No discounts for the following workshops: Wetplate, Super 8, Gumprint, Portrait Photography with Reversal Processing of Photopaper and Slidefilm Photo Walk & Development.
Overview of the current workshop offers :
Expert Workshops
Wetplate – BOOKED OUT! –  
Super 8
Gumprint – BOOKED OUT! –  
Portrait Photography with Reversal Processing of Photopaper
Slidefilm Photowalk & Developing
Polaroid Photowalk & Manipulation
Super 8 Manipulation
Caffenol Film Developing
Printing with Beetroot and Caffenol – BOOKED OUT! –  
Basic Workshops
Black & White Photowalk – FEW PLACES LEFT –
Black & White Film Developing – 1 OF 3 DATES BOOKED OUT! – 
Black & White Printing – FEW PLACES LEFT –
For Kids
School Workshops
Pinhole Camera
Photogramms
Exklusive Inklusive
Photogramms – BOOKED OUT! –